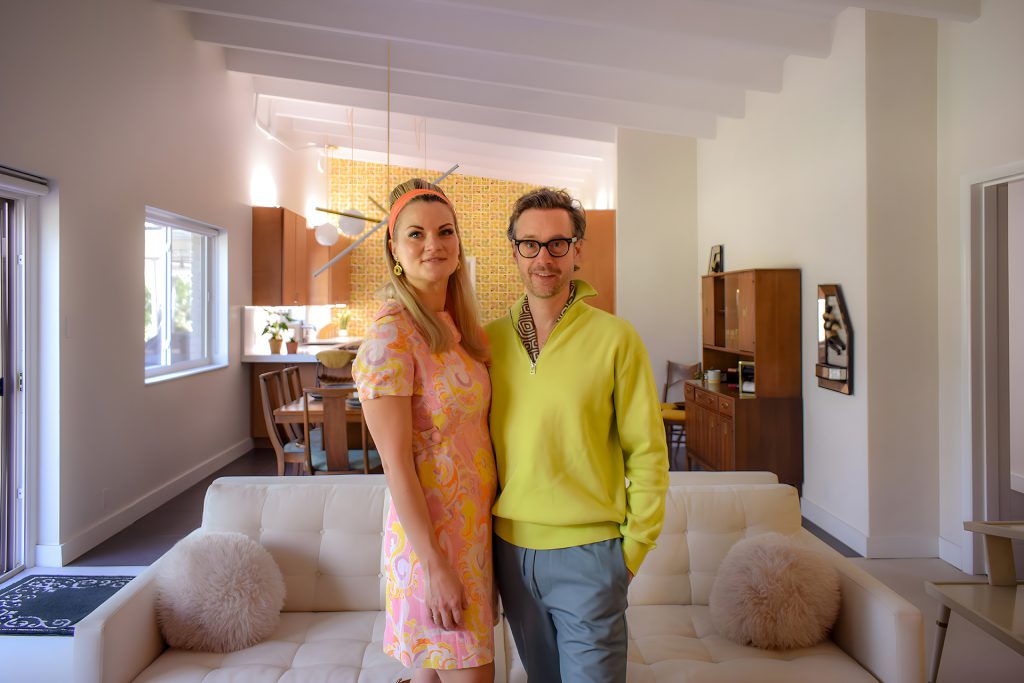 After a previous owner stripped this home of its historic charm, the Schuettes set out to restore it to its original mid-century glory.
This Brentwood, TN home is a relic of the past and a fascinating piece of Nashville history. It was designed by architect Burney Tucker and built almost entirely out of concrete as if it were a commercial structure. Started in the 1960s, it took four years to complete. It has had a couple of owners over the years, one of which removed many of the classic mid-century features in favor of more contemporary ones.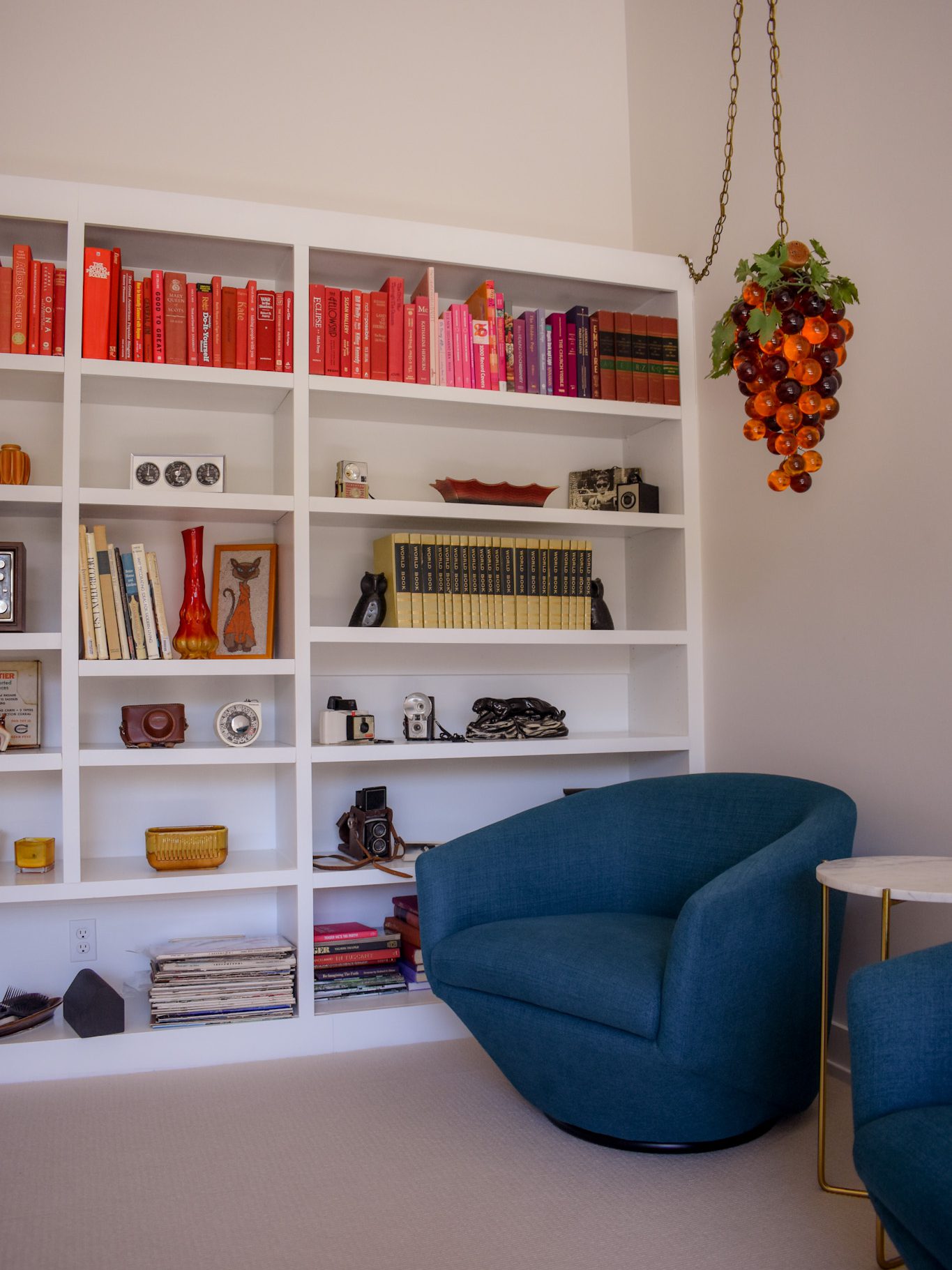 Jeff bought the house in 2019 and began the long process of transforming it back into a mid-century home. In 2021, he met and married Shelby, who has been helping with the project ever since. "Pretty much every area of the house has been restored with attention to every detail," they share. They vaulted the living room ceiling, re-tiled the master bathroom, recreated the carport, and added Palm Springs-inspired landscaping.
"We want people to feel transported and inspired in our space. We love to host parties and make people feel like they stepped into a time machine."

Shelby and Jeffrey Schuette
Not only is the structure of the home true to the Atomic Age, but the furniture and decor match too. "Jeff has been collecting mid-century furniture for over a decade and has an affinity for lamps and light fixtures," Shelby says. "Hanging the grapes light in the living room was the first idea Jeff had." The couple has since decorated their den with a lucite hanging lamp and a stunning Broyhill Brasilia coffee table. Their kitchen contains a geometric gold chandelier and lots of retro glassware. Their hallways are decked out with vintage starburst mirrors.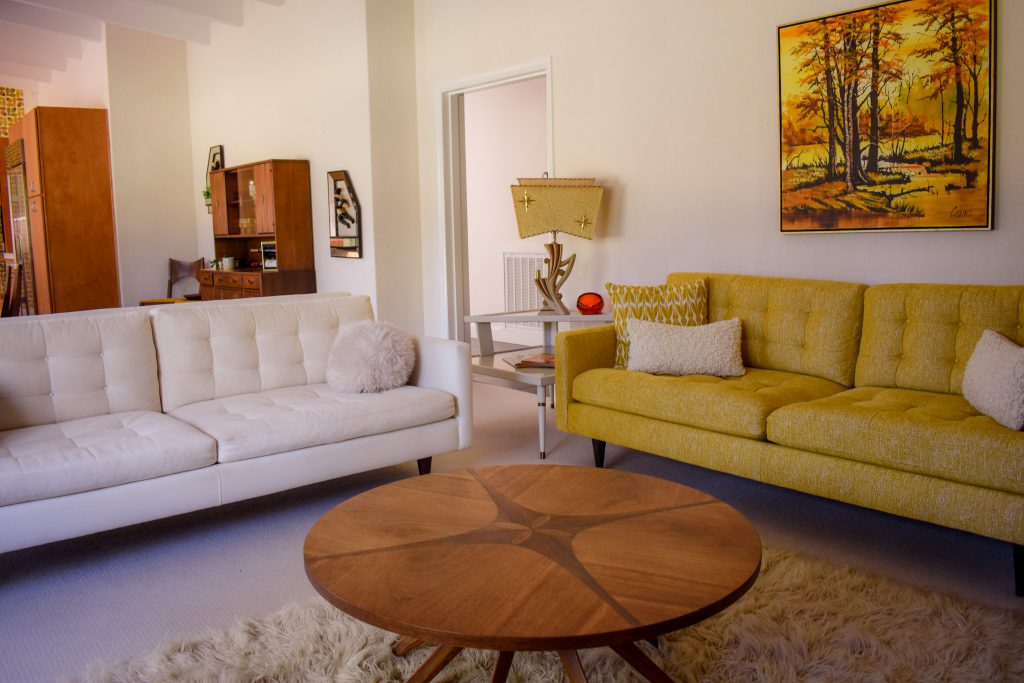 A new addition to AVVAY's location network, the Atomic Age Dream House has already hosted some big productions. CMT filmed an acoustic set in the living room recently. Shelby and Jeffrey got front-row seats. And the couple first discovered AVVAY in a unique way—while searching for a wedding location! "I thought as we were looking that we needed to get our house listed on there!" says Shelby. And what a perfect backdrop it has become for retro-inspired projects.
The Schuettes hope their guests feel like they've stepped into a time machine when they enter the space. "We are very inspired by classic movies," Shelby shares. "Most nights we curl up and watch some from our collection and get so inspired by the designs and storylines." Even in 2022, the Atomic Age style is fun, bold, comfortable, and timeless.