You know the feeling of discovering something new before everyone else does? Maybe you saw a cool band in an intimate venue before they made it big. Maybe you snagged an early painting from a local artist that later blew up. There's a desire to share the excitement with everyone you meet, but there's also an inclination to keep the secret small and precious. That's what founder Ryan Noble wants you to feel when you enter his art space called sometimes.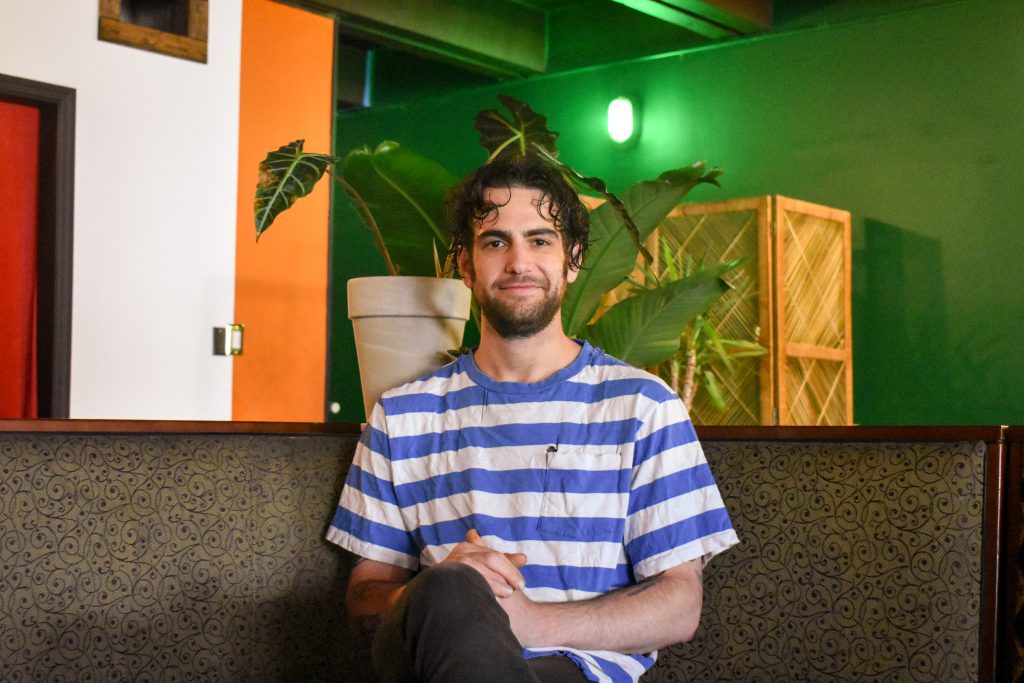 Noble, a visual artist, began painting full-time six years ago. He realized his marketing career wasn't his dream, and he took the plunge into professional creative work. In July of 2020, he took another important leap—moving his small art studio into a larger space in Nashville, TN where sometimes. is located currently. "I honestly did not entirely know what sometimes. would be other than a place for creatives to hang out, collaborate, and be inspired by each other," Noble says. "It has certainly become that and I think a bit more."
"I honestly did not entirely know what sometimes. would be other than a place for creatives to hang out, collaborate, and be inspired by each other. It has certainly become that and I think a bit more."

Ryan Noble, Host of sometimes.
Walk into sometimes. and you'll see art everywhere. The floors are covered in bright colored rectangles. The walls are colorful too—rich green paint on the wall to the right and bold stripes on the wall straight ahead. Red curtains hang to the left, covering tall mirrors that make the space feel exponential. In the backroom, the walls and floors are painted white to highlight hanging artwork. A hodge-podge of props, from mannequins to disco balls, are staged throughout. The furniture is eclectic. All items were found or donated. Lush plants grow everywhere, giving the space life that is both literal and figurative.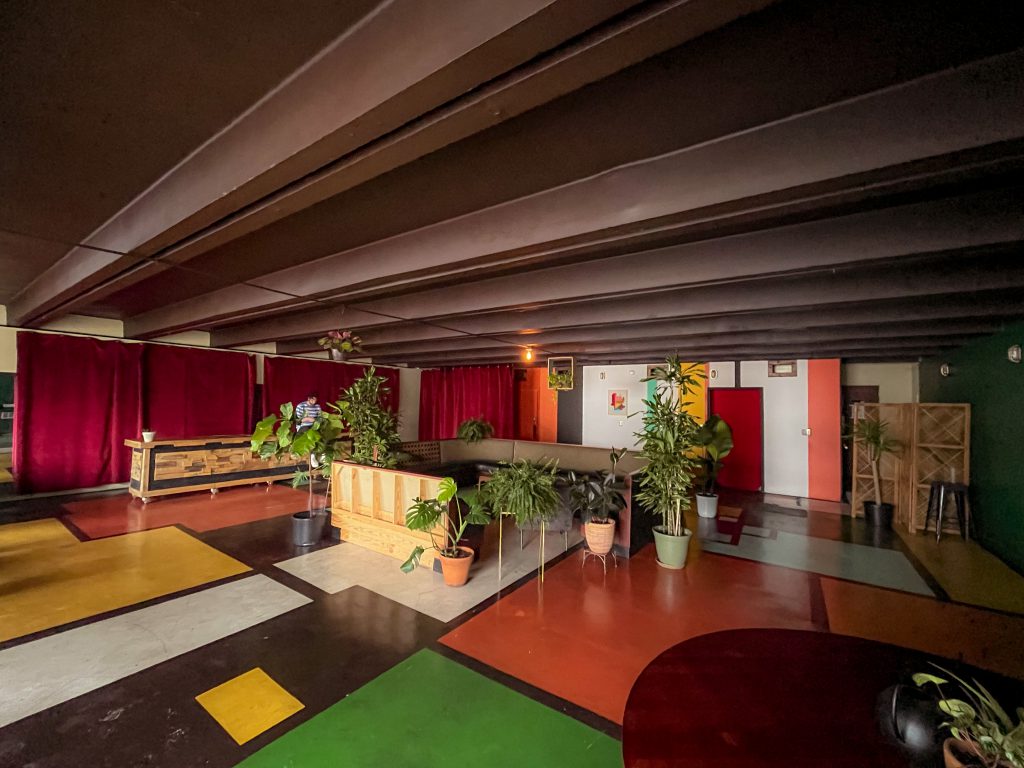 Noble's art is displayed all over the space, giving it a strikingly individual look. He uses vibrant color and abstract glyphs in much of his work. A piece called "Come Find Me," painted on a dropcloth, serves as a focal point in the gallery. "I ended up painting a bunch of different colors on the outside working towards the center of the canvas," Noble shares. "Ironically, I stopped and left the center blank." Painted during a season of aimlessness, it represents "a beautiful unknown just within reach." In addition to "Come Find Me" and other works on canvas, Noble transfers his signature style to the building itself. His glyphs are painted all over the back gallery walls, both indoor and outdoor.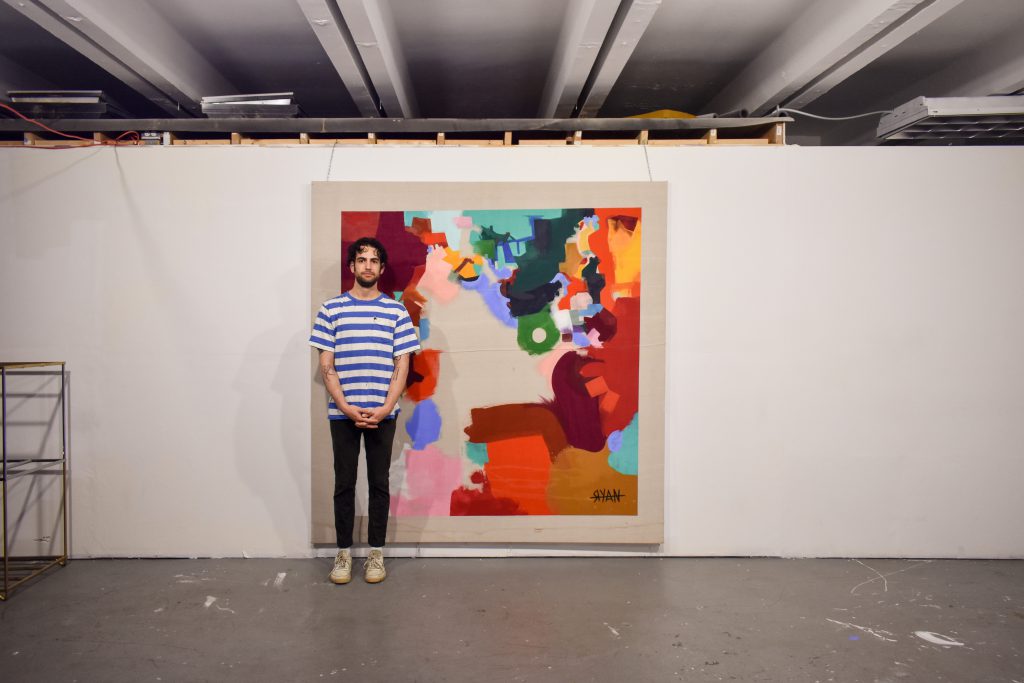 Though sometimes. began as Noble's personal studio, it has grown into a collective. Several other artists rent sections of it for their work, and the setup is ever-evolving. It has been used not only for visual art, but for music, video, dance, and events. Noble came to AVVAY to grow the space as a filming location, as he is very passionate about witnessing people doing what they love. "I have no clue what I'm doing a lot of the time, but being privy to some of the incredible things people around me are creating, I'm constantly inspired to keep going." sometimes. is uniting, inviting, and community-centered at heart.
Noble is pursuing his passions in a big way, but he's a realist too. It has taken some less-than-glamorous work to get to where he is today. He spent a few months living at sometimes., and he's spent lots of time cleaning it up after big events. But he's grateful he has a place to house and develop his work, connect with other creatives, and dream big for the future. "I'm a huge fan of artists like JID and Kendrick, also Kanye (when he's not distracted by Pete). If any of them was to do a live stream here I would flip out! I know JID did one at Vandy not too long ago so perhaps my manifesting isn't too unrealistic."
Tucked just behind a major East Nashville thoroughfare, sometimes. is an exciting, fresh find. "I want people to feel like they discovered something special," Noble says. Maybe you'll see the next big artist recording a music video there. Maybe the art on the walls will become collectors' items. You never know! Sometimes, the beautiful unknown is within reach.