Ever wondered what a professional set designer's home looks like?
Angel Bond knows how to set a stage. As an experienced art director, musician, and designer, she understands how to create a vibe and a feeling. Her 1900s craftsman home became a canvas to express her artistic visions when she set out to transform it into a space that is both hip and sophisticated. "We wanted to make it as funky as we could yet still keep the class of its architecture," she says. And she succeeded.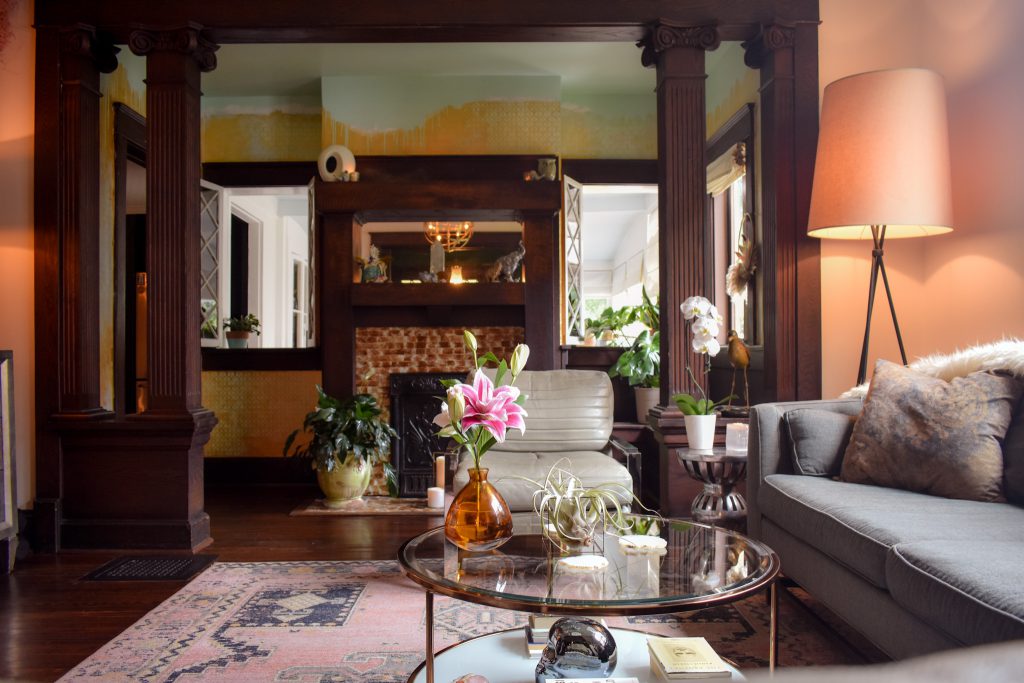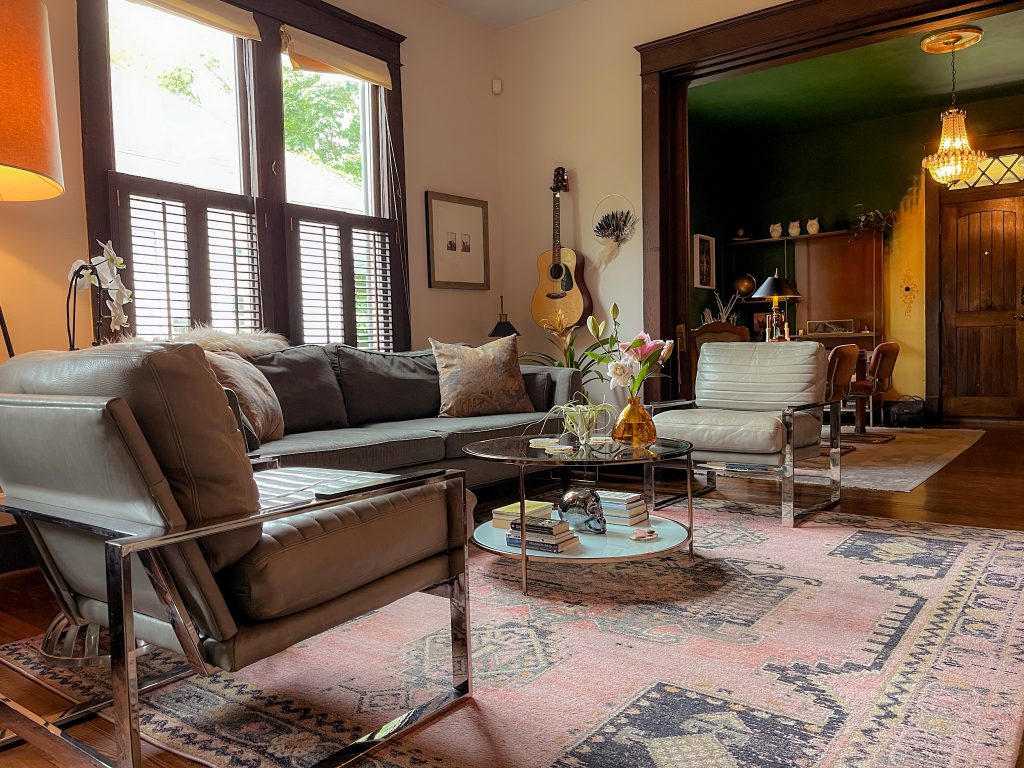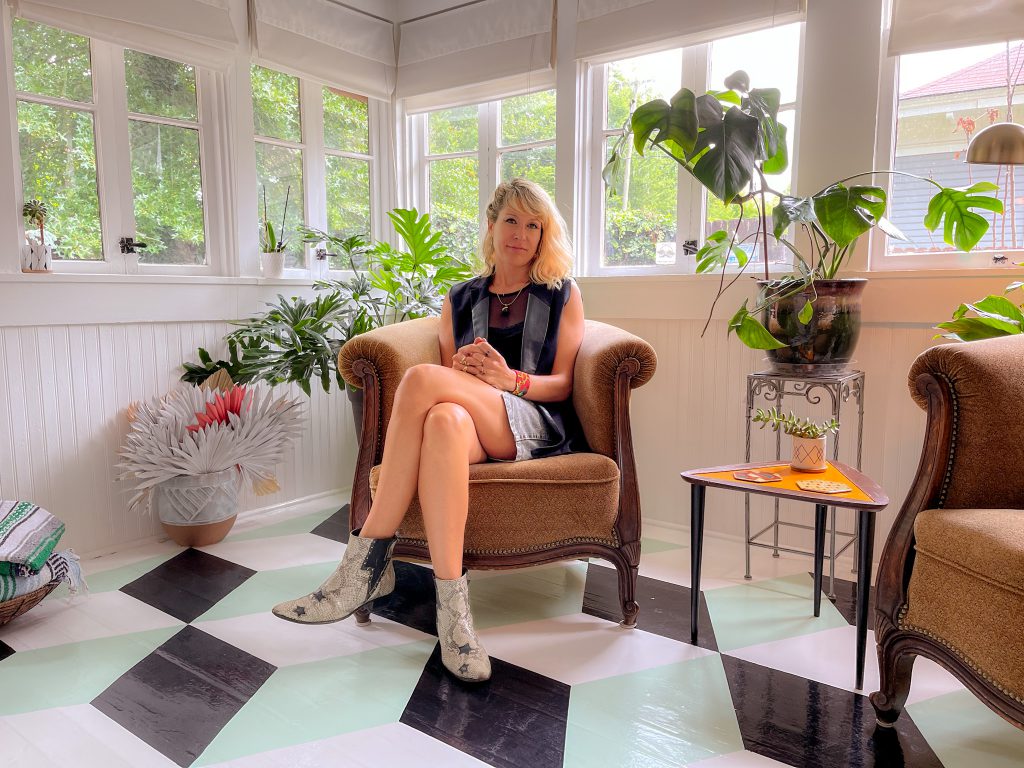 One of her first decor projects was a sentimental one—finding a way to preserve and display her wedding flowers in the space. Bond dried and spray-painted bundles of florals and hung them from the ceiling, creating puffy clouds of popping color. Dried floral arrangements are present in every room, tying together every eclectic corner of the home.
During the pandemic, Bond took on many decor projects to keep her creative energy flowing, many of them involving creative paint treatments. She painted the front dining room a deep emerald green and embellished all the walls with elegant gold leafing. She also painted a geometric, M.C. Escher-inspired pattern on the floor of the sunroom. "I had never tried anything like this and had almost given up several times trying to figure out the math of it!" she shared. These were meticulous projects, but they quickly became her favorites.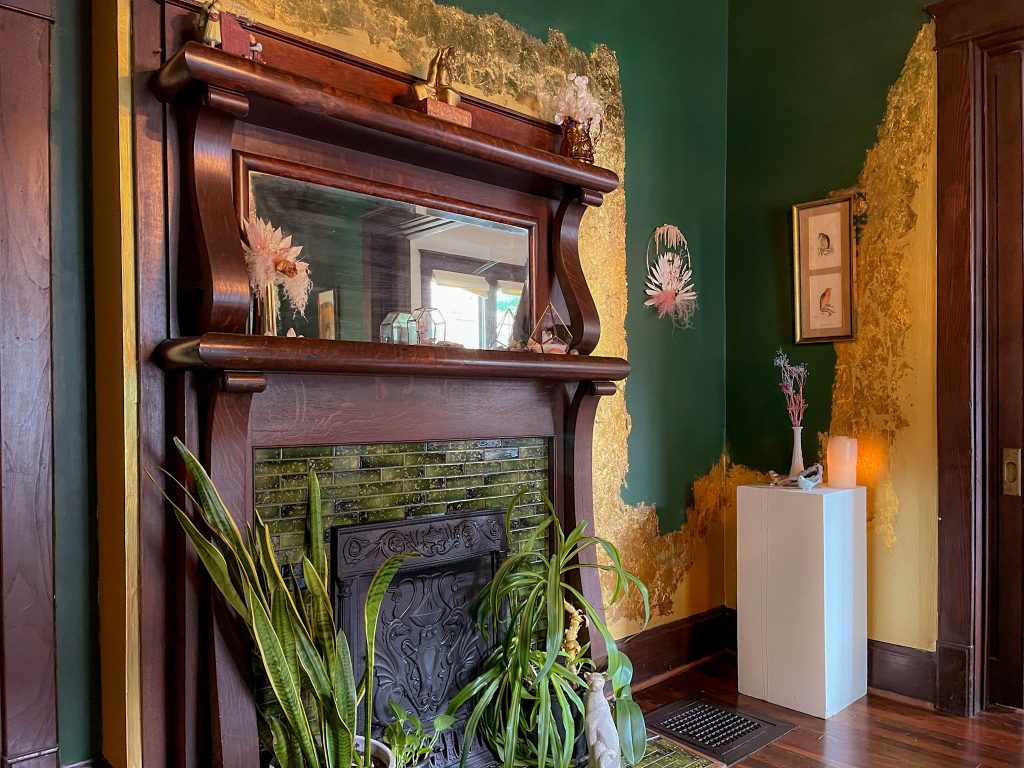 Though Bond enjoys an edgy look, she also pays homage to the history of the home. She takes inspiration from the past and present, seamlessly weaving in family heirlooms and vintage pieces alongside modern ones. "[I'm inspired by] nature, color, music, emotions, human connection, history, and architecture," she says. By preserving the original wood framing of the home, she holds on to the traditional elegance of the space while bringing in modern accents.
"[I'm inspired by] nature, color, music, emotions, human connection, history, and architecture."

Angel Bond
Given her experience with set-building and floral design, Bond connected with AVVAY to rent her home out as a film location. She makes herself available for consulting at her renters' request. Since each room incorporates different colors and textures, productions will find a variety of backdrops in the space, as well as many props to use for set dressing.
There is a special energy in this location— a spirit both old and new, classic and fresh. There is something there for everyone. After all, it was created by a professional for professionals.